SmartWatch™ - Military Grade Rugged Smart Watch for the Alpha Male
$49.99 USD

$49.99 USD

Save

$37.29 USD
---
---
The SmartWatch™ is a smart wristwatch that will be on your side during the difficult hours of training and resting moments. The product, which is also intended for combat soldiers, will help you with any sporting challenge you face. Its impressive durability will surprise even the toughest of the trainees. Get to know each other and get into shape!
Are you tired of lying on the couch and jumping through the various sports channels instead of moving? Get the gadget that will make you move and improve your cardiovascular endurance while losing healthy calories. Especially towards the end of the winter and the joyful entry of spring, here is a new product worth checking: a smart fitness watch that will prove to you and your coach that now you are starting to invest and know you will see results. 
The market for smart sports watches is growing by tens of percentage points every year. According to Business Insider, in the past three years, there has been almost 100% growth in its size, and by 2021 this market is expected to reach $ 3.8 billion, an impressive figure considering that two years ago it was barely $ 2.4 billion.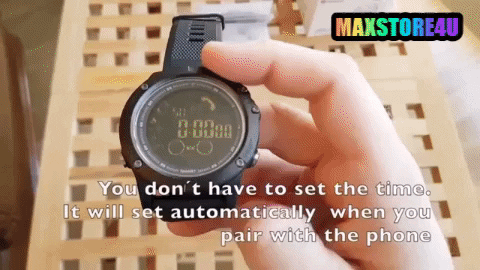 One of the main reasons for the enormous growth of smart watches market is the increase in awareness of a healthy lifestyle. Functional training on the beach or in the park has become a global trend and many are interested in dedicated sports equipment, which shows an affinity for an active and active lifestyle.
The SmartWatch™ success stems first and foremost from the disappointment from other expensive watches from well-known manufacturers, some of whom failed in one or more of the factors which can distinguish between success and total failure: some were not resistant and broken, some suggested battery time was too short and some suffered from bugs. 
Military technology in civilian use
As soon as the SmartWatch™ is removed from its box, it is clear that this is a full-time fitness watch. The front is made of a mixture of carbon and aluminum fibers in fine and prestigious design, and the wide perforated strip emphasizes its resistance to water shocks and bumps of various types. In short, you are invited to abuse him as much as you want during the training and he will not lose his advantages and will stay with you as much as you can continue to practice.
Like fitness watches and advanced smartwatches, the SmartWatch™ also offers a timer, an alert for a missed call, and a text message. It also measures the number of steps you have taken each day and the number of calories burned. The user interface itself is very convenient and the menu is quite simple. Please note: this is not a touch screen - which is another advantage. While pressing the side button to use the watch may be considered problematic, consider that it is very difficult to operate a touch screen while engaging in intense physical activity.
The SmartWatch™ is very successful for a number of reasons:
Bluetooth 4.0 connectivity.

Stopwatch, 12/24 hour display, alarm clock, calendar, missed call alert, text message alert, pedometer, calorie meter, odometer.

Smart and easy to use user interface.

A high-quality battery that lasts for a long time.

Resistance to shocks falls and blows.

Water resistance - 

IP67 Water-Proof for hand washing, water splashing.



Synchronization with all smartphones and all operating systems - 

Compatible with IOS 7.0 & Android 4.4 or above devices.



Support multiple languages - English, French, Italian, German, Russian, Spanish, Portuguese, Japanese, Arabic, Chinese.


An equal price that gives knockout to competitors.
Watch Specifications:
Color: Slate / Black / Burgundy (Optional)

Watch Dial: 5cm / 1.9in

Band Width: 2.6cm / 1in

Dial Thickness: 1.4cm / 0.5in

Watch Girth: 26cm / 10.2in

Watch Weight: 78g / 2.7oz

Watch Box Size: 10 * 10 * 7.5cm

Whole Weight: 151g
✈ WORLDWIDE SHIPPING:
Economic shipping (Order more pay less for your shipment – Max payment 5.99$)
Fast shipping to USA (Usually 7 to 28 working days)
International shipping: (Up to 60 working days) depends on the country.