Portable Solar Pocket Shower - 5 Gallons/20 Litters PVC Shower Bag for Camping
$24.99 USD

$24.99 USD

Save

$15.00 USD
---
---
You lost your job, you lost your wife, you lost your house, your living on the streets, but at least you can scoop a few gallons out of a public toilet and throw it into your portable shower bladder and get a nice clean shower once a day. Now just shave that beard, dig up a newly buried dead guy, steal his suit, and you got yourself a job sir! The pocket shower holds up to 5  gallons and will give you roughly an 8-minute shower. The compact design lets you fold it up into a small size that you can easily fit into your pocket (hence pocket shower).
Features:
Camping shower; ideal for traveling, hiking, backpacking, camping, or other outdoor engagements.
Hangs easily on tree branches (or elsewhere) to take a comfortable bath.
Made by healthy and durable toxic-free PVC material of leak-proof workmanship.
A black front featuring premium heat-absorbing performance and a transparent back 
Natural solar heating technology heats the water from 15 degrees Celsius to 45 degrees Celsius within 3 hours.
8 minutes non-stop water flow with a capacity of 20 litre/5 gallons.
A secure water inlet and a tough hanging cord with a strong hook.
Nozzle with an On/Off switch slides to control water output.
A 22 hole shower head with a long clear water hose.
Strengthened handle with a strong plastic tube. 
A light-weighted material, easy to carry.
Folds down for space-saving storage.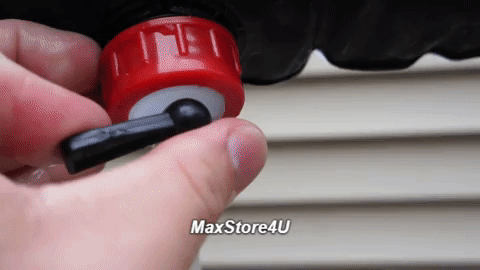 Instructions: 
1. Prepare warm water diluted with one tablespoon of baking soda and rinse the shower bag before your first usage. 
2. Lay flat the shower bag (filled with water) and keep the black side up to sunlight directly to warm the water. 
Warning: 
1. Water should not be heated over 50 degrees,
or the service life of this product will be affected. 
2. Please test the water temperature before use and add cold water for proper showering needs. 
3. The water CANNOT be drunk. 
4. Please empty and dry the bag before storage. 
✈ WORLDWIDE SHIPPING:
Economic Shipping (Order more pay less for your shipment – Max payment 5.99$)
Fast shipping to USA (Usually 7 to 28 working days)
International shipping: (Up to 60 working days) depends on the country.