ADVANCED FUNGAL NAIL NATURAL REPAIR MAGIC PEN - Buy One Get 1 Free!
$13.99 USD

$13.99 USD

Save

$12.00 USD
---
---
This pen is specially formulated for fungus-infected nails and specifically designed for easy carriage. It is a very affordable repair pen for Onychomycosis treatment. 
Onychomycosis, commonly known as a "fungal infection of the nail", is a nasty condition often exhibited by discolored yellowish, thickened nails. The infected nail is often separated from the nail bed. This condition is often embarrassing and takes a toll on anyone's overall confidence.
The 100% Herbal Repair Pen is designed to kill fungus and eliminate fungal infections, redness, rashes, dryness, and irritation. Containing Angelica Extract - a traditional plant that brings powerful anti-inflammatory analgesic effects.
This herbal remedy has been refined to produce an easy to use applicator pen with the concentrated benefits of medicines traditionally used for centuries. Within just a few days, the shiny natural appearance of the nail will return. Your brittle and fragile nails will regain elasticity, developing a beautiful natural shine.  
Rich in natural antiseptic extracts, it harnesses the power of nature to treat fungal nail infections by running deep to the root of bacteria to kill toxic nail fungus.
For brighter, healthier-looking nails, trust this Onychomycosis Repair Magic Pen to do the job. Bid goodbye to awful fungus-infected nails. In no time, you'll be proud and confident again to wear nail-bearing flip flops and sandals. Bringing back your healthy glowing nails is now a breeze!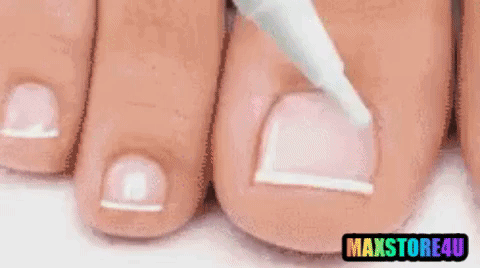 FEATURES:
100% Natural -

 

No Harsh Chemicals

 

which may IRRITATE the fungal outbreak.
Unique Nail Penetrating Formula, Deeply penetrates to

 

eliminate infections

 

by fungi, bacteria, and germs.
Contains bio-enzymes that

 

stimulate blood flow

 

and promote healthy nail growth.

 

Restores

 

Brittle, Crumbly, or even Ragged Nails to their Natural Shape, Color, and Texture.

Antiseptic and antibacterial

 

properties to Eliminates the odor caused by the fungal build-up of the affected nail. 
With powerful Antibacterial Protection that

 

prevents the excessive growth

 

of microorganisms, Inhibits the growth and spread of the fungus.
Proven

 

Fast-Acting and Long-Lasting
Very much

 

affordable and Cost-Efficient

Compact and Lightweight Design

— Handy Nail care and treatment anytime, anywhere!
Ingredients:
Extract from these herbals: Land Bone, Cloves, Rhubard, Cnidium Monnier and Cassia Twig
USAGE:
Clean the affected area before applying the liquid.
Shake the bottle thoroughly, brush an even coating on the affected area.
Allow the herbal remedy to act on your nails for 10 minutes before touching. 
Reapply twice per day, once before bed, for maximum results.
Specifications:
Size: Approx. 1.2 x 12.5cm
Capacity: 3mL
Package Includes:-
1 X ADVANCED FUNGAL NAIL REPAIR MAGIC PEN  + 1 X ADVANCED FUNGAL NAIL REPAIR MAGIC PEN FREE!
✈ WORLDWIDE SHIPPING:
Economic Shipping (Order more pay less for your shipment – Max payment 5.99$)
Fast shipping to USA (Usually 7 to 28 working days)
International shipping: (Up to 60 working days) depends on the country.