Silicone Stretch lid, 6 PCS - Fridge, Microwave, Oven Compatible
$15.99 USD

$15.99 USD

Save

$10.00 USD
---
---
PRODUCT DESCRIPTION
Are you confused about buying a variety of lids to cover different container? Are you worried that Unfinished food can't be kept fresh? The Silicone Stretch lids are your best choice!
VERSATILE DESIGN - Perfect for 3"-8" containers, such as bowls, plates, containers, mason jars, mugs or cans. Produce an air-tight seal to keep your food, fruit, and vegetables fresh longer and away from flies.
DURABLE & EASY TO CLEAN - Create a perfect seal on any glass, plastic or metal containers, they can also serve as a replacement for lost lids for round shape containers. Just place them in the dishwasher or hand wash with soap in warm water after each use.
HIGH QUALITY - It is made of high quality and environment-friendly silicone, can be used for again and again. They can totally replace aluminum foil, plastic wrap, press and saran wrap.
HEAT RESISTANCE - Compatible with -30 to 230 Celsius degree. 
6 DIFFERENT SIZES - They are stretchable and make a tight seal that won't let in air or leak. 6 different sizes meet most your needs.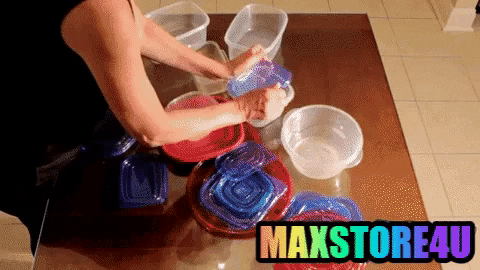 Color: Blue or White
Dimensions: You will find a size that fits all your mugs, pots, cups and bowls. You get 6 covers: 
Diameter: 

6.5cm

9.5cm

11.5cm

14.5cm

16.5cm

21cm
How to Use:
Warming tips
1. Lids are completely dry or they will not stay in place.
2. You had better not completely seal the container when you are using in the Microwave or Oven, Because the expanding heat and pressure from the container, may result in damage or injury.