13 in 1 Solar Power Transformers Robot Kit - DIY Education Series
$34.99 USD

$34.99 USD

Save

$25.00 USD
---
---
The solar-powered robot can be transformed into 13 different robot modes that include a multitude of comical and functional movements. Easily change from a wagging-tail dog - running beetle - walking crab - surfer - speedster - zombie chaser and more.
The robot kit provides unique accessories and parts that make the robot move on land or water or both. With alternative energy playing such a pivotal role, there is no better time than now to start children on the path to learning basic concepts behind these technologies. Fortunately, all the 13-in-1 robots are powered by the sun, so no batteries required.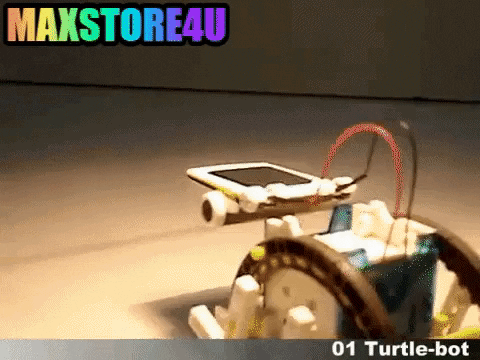 The robot moves in direct sunlight and allows children to create and use their infinite imagination. There are two levels in building the robot version. Level One includes Turtle-bot, Beetle-bot, Quadro-bot, Boat-bot, Walker-bot, Dog-bot and Wheel-bot. After children explore entry-level designs, they can challenge their manipulative skills with Level Two projects: Roly Poly-bot, Auto-bot, Slither-bot, Surf-bot, Zombie-bot, Crab-bot, and Row-bot.
Additional features include: adjustable polarity on the solar panel to change the direction of motor rotation, retractable robot head which can be quickly stored in the upper body, the robot head can be installed in the front, top or rear of the gearbox and transparent housing to see the movements of the gears. As we all say, "Our children are the future". And if anything is certain about that future, it is that renewable energy sources and green technologies will play a major role in our children's lives. With 13-in-1 Educational Solar Robot Kit, let them learn about their future and have fun at the same time.
Features:
This solar-powered robot can be transformed into 13 different robot modes with all the parts you need to be included in the box (of course, one at a time).
Powered by the sun - no batteries required.
Two levels of building skill levels so the beginner and experienced robot builder will be equally engaged.
All parts snap together - no tools needed!
Excellent addition to a home-school curriculum
Build land bots and water bots.
For Ages 10 and up.
Package Includes: Over 180 parts, sticker sheet, and illustrated instruction manual.
Please Note: Before building anything, you'll need to separate most of the parts from plastic frames and file them into marked bags (this kit has an awesome sorting system). Just plan that your first construction will take a little longer because of this preparatory step.
✈ WORLDWIDE SHIPPING:
Economic Shipping (Order more pay less for your shipment – Max payment 5.99$)
Fast shipping to USA (Usually 7 to 28 working days)
International shipping: (Up to 60 working days) depends on the country.