---
---
Your bedroom, lounge, or bathroom looks great, really. There's just something missing. Candles! Complete your décor and set the mood when entertaining friends or unwinding with a glass of wine, with a set of candles you won't need to fret over. These remote-controlled flameless candles have an uncanny resemblance to the real thing but are smoke and flame-free. So you can finally let your hair down with an ambiance you can relax with.
A set of three multicolored candles, use the remote to alternate the color sequence depending on your mood or décor. Keep them in unison or create a rainbow, with two lighting modes and 12 color options to experiment with. Made from real scented wax, you'll wonder why anyone would mess around with matches and flames after you've given these gorgeous lights a whirl.
With a small, medium, and large candle included, place them around the room to create the perfect setting for a candlelit dinner, quiet night in or bathroom scent. Each requires 3 x CR2032 batteries (Included) to get started, and then cue hours of basking in the glory of your futuristic mood-setters. This is one of the perfect gifts for parents and pet owners who are always on the watch for an accident!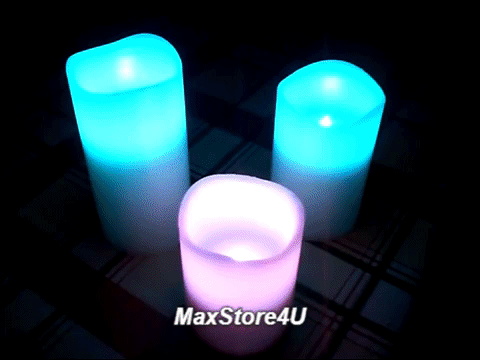 Product features:
Made from wax so they're just like real candles.
Built-in color changing LED light.
Only romance, no dangerous flames, no fumes, no wax mess.
Flameless candles are safe near curtains, beds & other home furniture.
Safe for children, pets
3.4 or 8-hour timer settings - Turn off automatically after 4 hours or 8 hours.
Two lighting modes (Flickering candle or steady light mode) and 12 colors options with multicolor button - Change 12 colors automatically / Stop at the current color.
One remote can control many candles.
Remote control range: approx. 3-4m
Each candle can be individually set according to your requirements.
Powered by 3XCR2032 batteries per candle (included).
Diameter: about 1-3/4"
Environment-friendly - smokeless and no CO2 emission.
Ideal for indoors or outdoors especially for parties and tea time.
---