---
---
 WiFi on S

teroids
No matter how fast your internet is at home, sometime will come moments of crisis. Plug & Surf launches an advanced range of magnifier that will upgrade the level of coverage in all rooms. 
Surf, play, watch and download content at the same time from smartphones and computers, through streamers to lamps and pumps Robots. Without our attention, our house was filled with devices that require network connectivity. Today the average home has 3-4 laptops, 5 smartphones, 2 tablets, an IP camera, a Streamer, and a gaming console. While Mom watches Netflix the eldest son plays a net game, the girl is on YouTube and Dad orders clothes in Asus, and they are all connected to one wireless network. The result is weak WiFi reception and low Internet speed. 
Where is the problem?

The WiFi signal is not always optimally received on the end device. The house is too big, too many devices connected to a single router, and if that's not enough, the reception is not optimal, to say the least. Our wireless network has great potential and is not always being used properly. 
Plug & Surf is the name of Advanced Repeater that solves all wireless reception problems at home. The receiver picks up the router's network signal and transfers it to rooms without a reception. It is suitable for houses where it is simply impossible to place the router in the center of the house or the house is too large for a single router. It transmits the Wi-Fi communication at full power and therefore better reception and faster browsing speed even in problematic locations. It knows how to set the transmission channels according to the other channels in the environment automatically so that your neighbors' multiple routers are no longer supposed to interfere with reception in your home.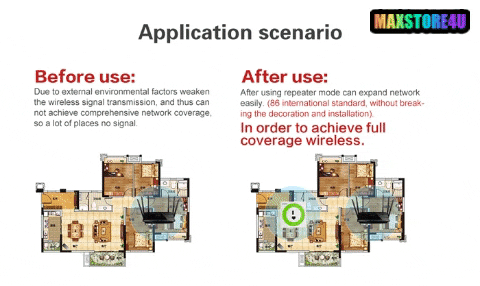 Does it give the peace of mind it promises?

When you connect to a network that produces this type of Repeater, you get a strong signal but one that has a maximum speed that is very close to the speed you're supposed to get from the original network. Plug & Surf leaves all the Internet problems in the past!
Plug & Surf is very successful for a number of reasons:
Improve wireless coverage in all WLAN networks.

Access to the Internet for computers located on the edge or outside of the range of your access point.

Complies with IEEE 802.11n, IEEE 802.11g, IEEE 802.11b standards .

Provides up to 300Mbps transmission rates.

Support 2.4 GHz WLAN networks.

Maximum WLAN security with WPA2, WPA

,

and

 

WEP (128/64).

Software wizard for simple setup.

2dBi antennas integrated

Support Wireless Repeater Mode and Standard AP Mode.

Its installation is simple and easy.
It works with all different operating systems.
It is designed for customers of all ISPs.
Surfing speed is similar to your vendor's stated surfing speed in all rooms.
Plug & Surf is designed for anyone who surfs, plays, watches, and downloads content simultaneously from multiple devices and wants to increase the range of wireless network reception at home. Is it worth the price? There are other solutions, some cheaper, but it is doubtful whether they will allow you to take advantage of your existing Internet connection so well.
Package includes:
1x Wireless WiFi Repeater

1x RJ-45 Networking Cable

1x Installation Guide
✈ WORLDWIDE SHIPPING:
Economic shipping (Order more pay less for your shipment – Max payment 5.99$)

Fast shipping to USA (Usually 7 to 28 working days)

International shipping: (Up to 60 working days) depends on the country.
---